Well, time to get back to work again. Seminggu cukup sudah untuk menyelesaikan semua tugas luar yang dibebankan.
The most important thing is that I am back in Phnom Penh .. and I am happy because of that.

Kerjaan kembali menuntut untuk selalu dalam kondisi prima, dalam kondisi fit. Maunya cepat selesai lalu segera beristirahat [
damn!!! .. up till now I still am sleepy
] tapi kan tentunya tidak bisa karena sebegitu banyaknya tamu dan sebegitu banyaknya manusia yang mempunyai kepentingan sendiri - sendiri.
Setidaknya masih bisa untuk escaping sedikit, menikmati hari dan waktu yang semaksimal mungkin. Jam makan siang pun kembali untuk terbiasa makan siang di kantor, menunggu di kirim.
Wah, rutinitas adalah sesuatu langkah yang setiap harinya tanpa kitas sadari menguji rasa kesabaran kita, rasa tawakal kita dan rasa lainnya.
Coba rutinitas saya adalah setiap dua or tiga bulan sekali, kita menginap di Siem Reap ... :) atau mungkin malah menginap di Kuala Lumpur .. :)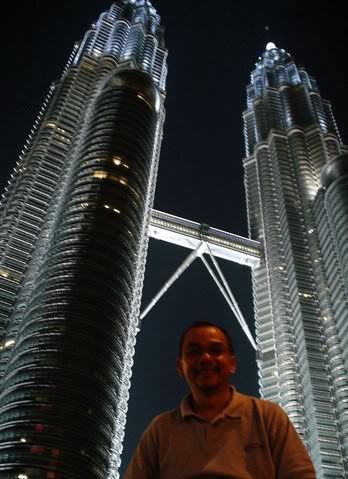 Jadi ingat lagu lama ..
"semalam di Malaysia"
:) ... here is mee with the greatest Petronas Center ... :)