Hari ini Om Dubes beserta Tante dan putra-putranya berangkat menuju Tanah Suci untuk menunaikan Ibadah Haji. Ini pertama kalinya buat saya mengantar orang berangkat naik haji, sebelumnya saya hanya melihat segerombolan orang atau pun iring-iringan bis menuju airport dimana satu orang yang berangkat haji tapi yang mengantar hampir seluruh kampung.

Jam 9 pagi berangkat dari Wisma Indonesia menuju ke KBRI Phnom Penh, semua berkumpul di ruang tamu dan kemudian dikumandangkan doa untuk yang berangkat

"ASSALATU WASALAMU ALAIH ..... YA ROSULULLOH .... "
"ASSALATU WASALAMU ALAIH ..... YA HABIBALLOH .... "

Entah kenapa tiba-tiba saja ada perasaan menyeruak dalam dada, rasa ingin menangis, dan belum sempat disadari tiba-tiba saja air mata berjatuhan .. begitu merdu terdengar doa tersebut, begitu syahdu ... hampir semua yang berada di ruang tamu meneteskan air mata. Setelah itu dikumandangkan adzan ....

Setelah itu mulailah dengan salam-salaman memohon maaf lahir batin, meminta doa restu agar segala sesuatunya berjalan dengan lancar dan dapat kembali dengan selamat dan menjadi Haji Mabrur.

Selamat jalan, Pak, Bu dan mas-mas ... semoga kembali nanti menjadi Haji yang Mabrur yang selalu diridhoi oleh Allah SWT dalam setiap langkah-langkahnya mengarungi kehidupan ini.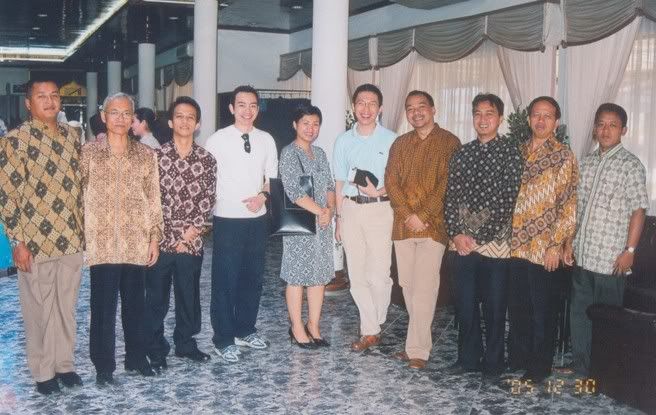 From left to right:
Mr. Ichwan Munaswien, Mr. Suryo Budiono, Mr. Wahyu Suprobo, Mr. Nano Oerip, Ms. Novi R. Kardini, Mr. Indra Oerip, Mr. Dimas Hary, Mr. Farid Ahmad, Mr. I Putu Arka and Mr. Kun Cahyono.