Today again another good friend of mine here is leaving for London. Leaving Cambodia for good, I wish I could turn back the time in a way to have a longer time to be his friend.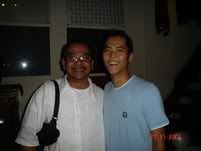 jasper and I in his farewell party last week
I did remember pertama kali ketemu di one of
our favorite place to hang out
(duuh dimana lagi sich hang out di Phnom Penh, mengingat tempatnya itu-itu saja dan ngga ada yang lain). We talked about a lot of things lalu setelah itu we meet occasionally for drinks.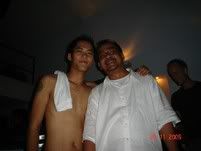 no 10 .. what a shape
One thing that I always remember is what he said one nite when we got a chance to chat in his farewell party .. "Hary, remember one thing that I am always sure that GOOD GETS GOOD and BAD GETS BAD" .. honestly, what he said up till now is still bothering my mind but I do believe on that now.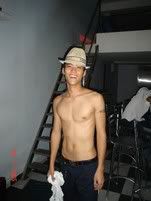 "... I, the high quality bitch, ... "
So, .. now he left already and hope that I could meet up again in one of this lovely day. He is meeting his good now ... :) ...
Thanks, buddy, for being such a good friend .. see you next time ...