a new experience always comes on day to day basis, well, mungkin bukan pendapat semua orang tapi buat saya hal itu berlaku.
hari ini ketua dpr ri beserta rombongan baru saja meninggalkan phnom penh setelah mengadakan kunjungan resmi selama 3 hari semenjak tanggal 6 kemarin.
salah satu dari rangkaian kegiatan adalah makan malam resmi atau biasa disebut official dinner yang diadakan oleh tuan rumah sebagai tanda penghormatan atas kunjungan tersebut. sebagai guest of honour adalah ketua dpr ri beserta ibu silvia hr. agung laksono dan sebagai tuan rumah adalah his royal highness samdech krom preah norodom ranarridh.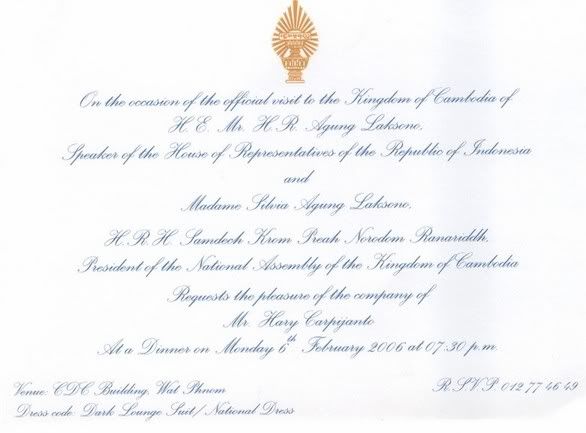 acara dibuka dengan cocktail party sebagaiman terlihat pada gambar, lalu setelah itu dilanjutkan dengan "sitting dinner" dimana masing-masing dari tuan rumah dan tamu kehormatan mengangkat gelas / toast setelah mengucapkan pidato.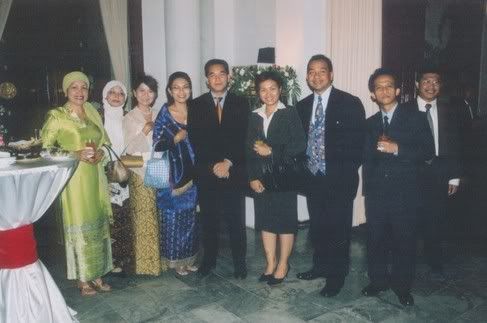 from left to right :
mrs. reny andrie sutarno, mrs. anita suprobo, ms. devi, mrs. ida de meester, his highness prince norodom budhapong, ms. novi r. kardini, mr. dimas hary csp, mr. wahyu suprobo, mr. wr. hendro
acara malam itu dihibur oleh tari-tarian tradisional kamboja dan juga lagu-lagu kamboja. yang membuat surprise adalah persembahan tari pendet oleh penari kamboja dan juga lagu burung kakak tua dan lagu mande-mande tanpa tentunya melupakan lagu bengawan solo yang sangat terkenal di kamboja ini (bahkan sampai diterjemahkan oleh mantan raja sihanouk ke dalam bahasa khmer).

setelah acara resmi selesai kemudian diadakan photo bersama.