Sebagian dari kalian tentunya pernah merasakan apa yang saya rasakan kemarin ini ketika teman-teman dari tanah air datang kemudian kita punya kesempatan jalan bersama di negeri orang dan gabung dengan teman setempat sehingga membuat suasana tambah riuh ramai.
Hal ini baru saja saya alami beberapa hari yang lalu. Dengan kedatangan Indra dan Nano Oerip, putra-putranya Om Dubes yang notabene adalah teman-teman saya, there is no day passing without going out .. entah itu ke pasar, ke shopping centre, menyusuri pinggir sungai atau sekedar ngopi di Foreign Correspondence Club (FCC) Phnom Penh atau menghabiskan malam dengan pergi ke disko (yiiiihhaaaaa ...) setelah itu dilanjutkan dengan supper seafood dan teman-temannya di Wahkee Seafood Restaurant yang sangat-sangatlah yummy tentunya.
One day after Indra dan Nano arrived from Kuala Lumpur, the following day, Indra's friend, Va came from Singapore and join this little tiny funny group. Tiada hari tanpa shopping for them dan tiada hari tanpa makan duren setiap malam. Cambodian Durian sangat legit dibanding dengan Durian Monthong dari Thailand. Va yang sangat tergila-gila dengan buah, memborong hampir semua buah yang dijual .. starting from mangga putih, lengkeng (the longans are bigger than Indonesian's longans), jambu air, dragon fruit .. etc .. etc ... malah pada malam terakhir dengan terampilnya dia mengupas 3 buah mangga supaya bisa langsung dimakan dan membuat sang penjual takjub dan terkesima.
Dan semua harus berakhir ... Va returned to Jakarta on Thursday and Indra and Nano returned to Jakarta today so here I am all alone again ...
Ayo siapa lagi yang akan datang dan jalan bareng .. I can show you around .. Phnom Penh is beautiful and Cambodia is exotic .. ahahahahahah ...
Lagi belajar photography .. once I start making some pictures using my simple camera then I will post it so then you will know at least what Phnom Penh's looks like ... :-)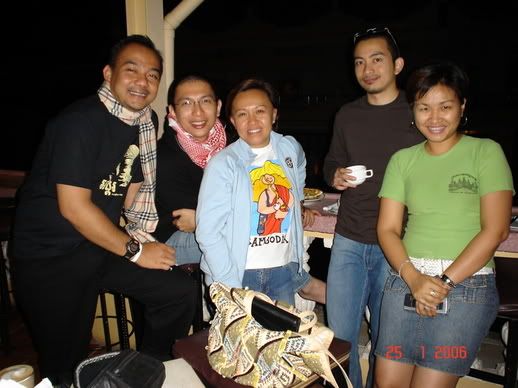 Mr. Dimas Hary, Mr. Indra Oerip, Ms. Vanessa Wen, Mr. Nano Oerip and Ms. Novi Kardini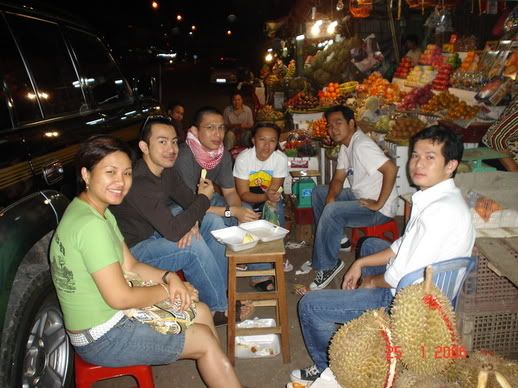 Eating Durian at Olympic Stadium
Ms. Novi Kardini, Mr. Nano Oerip, Mr. Indra Oerip, Ms. Vanessa Wen, Mr. Sothea Chan and Mr. Lina Ro