Lima hari setelah tanggal 25 Desember 2005, I celebrated my birthday dengan beberapa teman di Phnom Penh. Some of them adalah orang Indonesia yang bekerja di Phnom Penh, sebagian lagi adalah teman-teman orang-orang Khmer dan I invited all the local staff di Embassy.
The party began dengan saya ngirimin sms ke semua teman-teman yang I know them well enough ..
"As my birthday on Dec 25th, herewith request your pleasure to join the friendly Indonesian buffet dinner at Bali Cafe, Sisowath Quay, Dec 30th, 18.30. RSVP: regret only. -Hary-"
sebagian mengatakan akan hadir, sebagian regret karena harus ke luar kota untuk New Year's Celebration dan sebagian tidak menjawab .. but most of all .. I am happy karena hampir semuanya datang dan enjoying the food so much ...
Now .. let the pictures speak its own words ...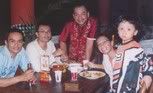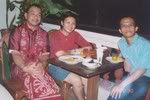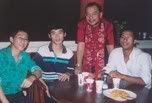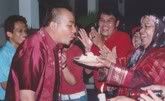 Make a wish ... and .... blooooowww the candle ... hooorrraayy .. HAPPY BIRTHDAY HARY !!